Product Description
CLICK HERE TO LEARN MORE ABOUT TYRANNOSAURS
This is a genuine RARE fossil dinosaur tooth of the tyrannosaur, Daspletosaurus torosus. It is complete but with some surface erosion and natural feeding wear. The tip is sharp and original. For a genuine North American Tyrannosaur tooth, it is bargain since most sell for prices in the thousands of dollars. ONE FRACTURE REPAIR BUT COMPLETE WITH NO FABRICATION OR RESTORATION. Daspletosaur fossil teeth of this apex predator tyrannosaur are extremely limited and difficult to come by.
Fossil remains of TYRANNOSAURS represent the pinnacle of dinosaur fossil collections and exhibits the world over. Their universal appeal and rarity compared to ever-increasing market demand put fine quality Tyrannosaur fossils at the forefront of highly promising INVESTMENT FOSSILS. Be aware of dealers offering fragmented bones and teeth as being from TYRANNOSAURS. Ignorance and deception persists in the fossil trade as the financial rewards are great for wrongly classifying a fossil as from Tyrannosaurs. Deal ONLY with reputable and knowledgeable suppliers who will provide a certificate and lifetime guarantee of positive identification.
Daspletosaurus is closely related to the much larger and more recent tyrannosaurid, Tyrannosaurus rex. Like most tyrannosaurids, Daspletosaurus was a multi-tonne bipedal predator equipped with dozens of large, sharp teeth. Daspletosaurus had the small forelimbs typical of tyrannosaurids, although they were proportionately longer than in other genera.

As an apex predator, Daspletosaurus was at the top of the food chain, probably preying on large dinosaurs like the ceratopsid Centrosaurus and the hadrosaur Hypacrosaurus. In some areas, Daspletosaurus coexisted with another tyrannosaurid, Gorgosaurus, though there is some evidence of niche differentiation between the two. While Daspletosaurus fossils are rarer than other tyrannosaurids', the available specimens allow some analysis of the biology of these animals, including social behavior, diet and life history.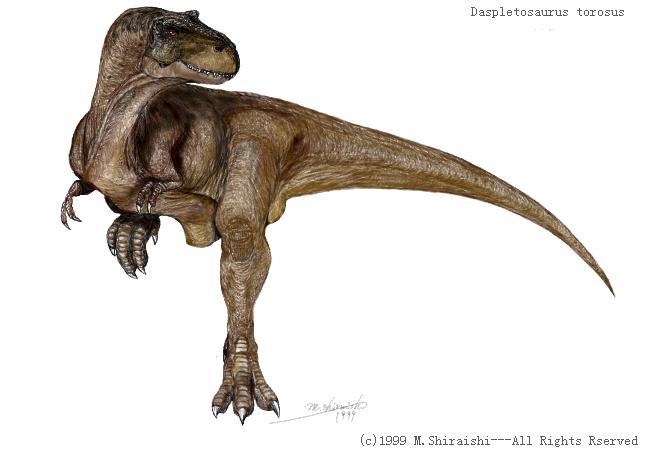 Product Videos
Custom Field
ID
Daspletosaurus torosus
FOUND
Two Medicine Formation - Montana, USA
AGE
LATE CRETACEOUS: 80 - 74 million years ago
CONDITION
COMPLETE WITH SINGLE FRACTURE REPAIR BUT NO FABRICATION OR RESTORATION
NOTE
VERY RARE TOOTH FROM AN EARLY TYRANNOSAUR DINOSAUR!
::
Includes a LIFETIME GUARANTEE Certificate of Authenticity & Condition / History Sheet
Product Reviews