Product Description
With its highly unique piebald spotted enamel, this T. rex tooth has unusual beauty compared to ordinary brown examples. It is from a juvenile T. rex dinosaur from the Hell Creek Formation and has a classic rounded D-shaped cross-section to its shape to confirm the correct identification. There is only one single fracture repair near the tip. The enamel is incredible and its natural luster shows off a spotted color pattern over a light cream body - something we have never seen in a T. rex tooth!

Always deal with a fossil supplier who does the preparation work themselves. Make sure your purchase includes a WRITTEN guarantee of authenticity AND condition. We provide this with every purchase. Fraud, ignorance and mis-identification is rampant in the fossil and artifact market, worldwide!
No type of dinosaur commands more respect and fascination than the members of the tyrannosaur family and a T. rex tooth or fossil seems to be at the top of every dinosaur fancier's list. Without question, fine quality teeth and bones of these dinosaurs will steadily appreciate year after year as limited legal collecting regions in the United States continue to be scavenged and produce less and less fine quality specimens. In December of 2011, a heavily weathered and repaired 5 inch tooth sold in a U.S. auction for a staggering $56,000.00 demonstrating the viability of these teeth to out-perform not only conventional investments, but many rare collectibles. One thing for sure - you do not have to ever lose sleep over owning a top grade, rare fossil of wide public interest. Unlike all other investments, with a collection of supreme grade fossils that have market appeal, you never have the worry of the value plummeting for reasons beyond your control like typical investments.
WARNING: Lately, we have seen a variety of sellers offering Nanotyrannus teeth from the same formation (which are more laterally compressed and less robust than T. rex teeth), and even Carcharodontosaurus teeth from Morocco, as Tyrannosaurus rex teeth. See below photo to help to identify what to look for in REAL T. rex teeth. The difference in value and price is SUBSTANTIAL between these different theropod teeth so emphasis should be not only on the existence of repair or restoration but on accurate identification, as well. A photo above of this tooth offered here shows the edge view with classic D profile and offset serration line as well as a more robust cross-sectional profile compared to Nanotyrannus. An equal-sized Nanotyrannus tooth would sell for a TENTH OR LESS of the price of a T. rex tooth of the SAME length! Whether it be ignorance or deceit, we have seen numerous instances of Nanotyrannus teeth being sold online as T. rex!
CLICK HERE TO LEARN MORE ABOUT TYRANNOSAURS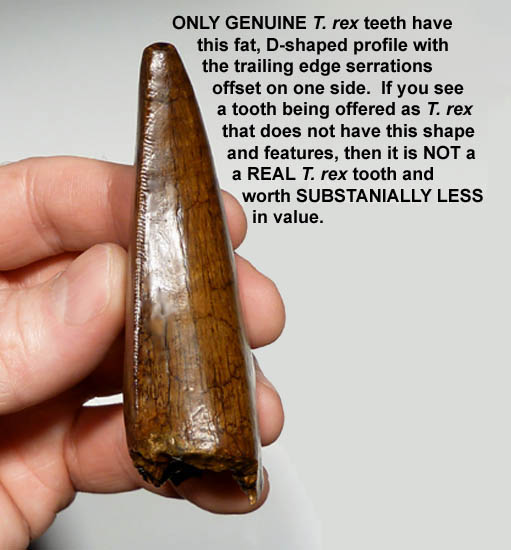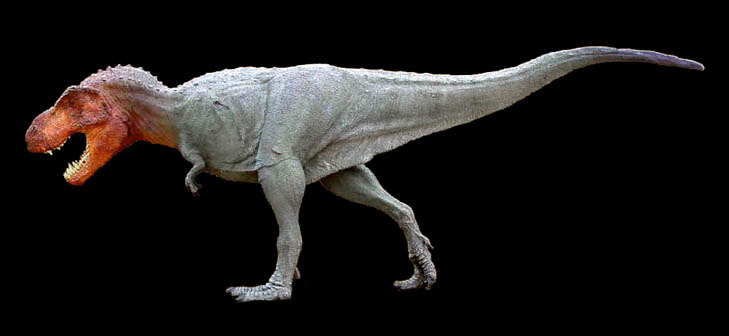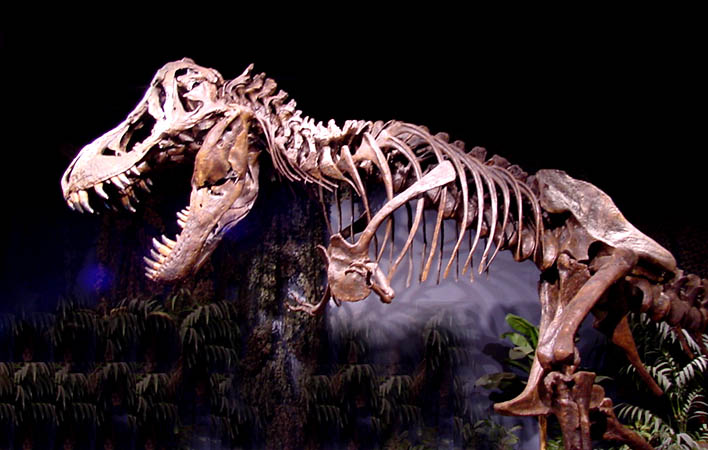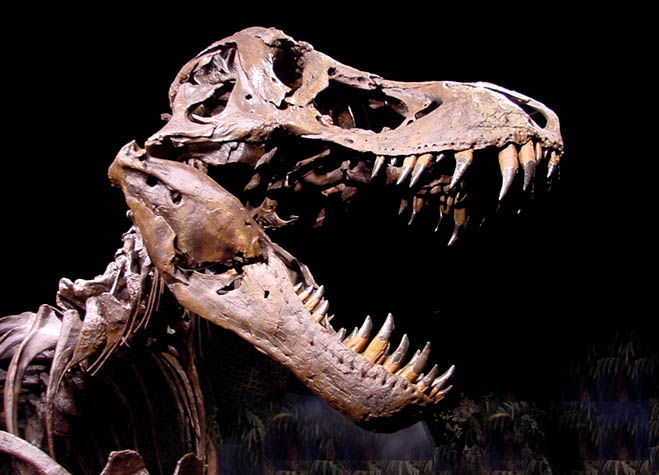 - all images and art copyright protected by Paleo Direct, Inc.
Product Videos
Custom Field
FOUND
Hell Creek Formation - Montana, USA
AGE
LATE CRETACEOUS: 68 - 65 million years
SIZE
1.7" long on the leading curve
CONDITION
ONE FRACTURE REPAIR ON TIP BUT NO RESTORATION OR ENHANCEMENT. WORN SERRATIONS BUT WITH SOME STILL VISIBLE.
NOTES
AMAZING COLOR PATTERNS IN NATURALLY LUSTROUS PIEBALD ENAMEL.
::
Includes Lifetime Guarantee Certificate of Authenticity & Condition / History Sheet
Product Reviews